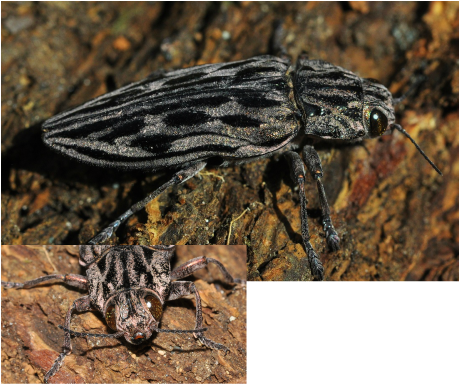 This behemoth of a beetle buzzed past like a wee helicopter before landing on my chest. All three centimeters barely fit in the collecting jar that just happened to be in my pocket (and at the same time releasing another beetle that was going to be way harder to identify!) The larvae of
Chalcophora angulicollis
feed on the dead wood of coniferous trees, including Douglas-fir. They start when the tree has just died or dying and though they may not be killing the tree, they will lower the value of the timber.
When trying to find out any information that I could on this spectacular and heavy beetle I came across this
great T-shirt
with a beautiful illustration of the pine borer in flight. Nice eh ?
The taxonomy of this species has been in flux with a similar one that occurs in the east (
C. virginiensis
) however it seems to have been reconciled using morphological characteristics and a distribution that has a big gap between them.