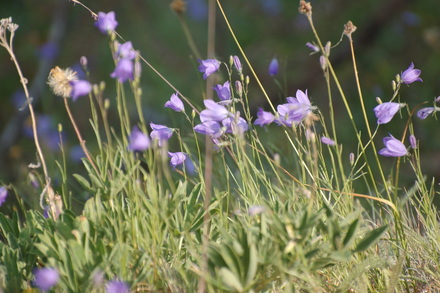 Sometimes I think the taxonomists that name species look for the most obscure character to use to coin a name. The ring on the neck of a Ring-necked Duck is possibly the least visible plumage character on that species and the "rotundifolia" on this species (
Campanula rotundifolia
) refers to a few basal leaves that often dry up and wither away before the plant flowers. The Common Harebell at Leaning Oaks are escapees from a few plants put into the garden almost 20 years ago. The species persists, not only in the bed that it was originally planted, but also in the lawn, cracks in pavement and between the stones that edge parts of the garden. Common Harebell is native to our part of the world, but for the most part, it is found at higher elevations than Leaning Oaks.
The flowering season here seems varies a lot. In most years the floral display lasts for a long time from June until August or September..this year however it was over in a flash, another casualty of an exceptionally hot, dry summer.
Hopefull next spring it will reappear.
"
Hope is like a harebell trembling from its birth,Love is like a rose the joy of all the earth,Faith is like a lily lifted high and white."
Christina Georgina Rossitti.