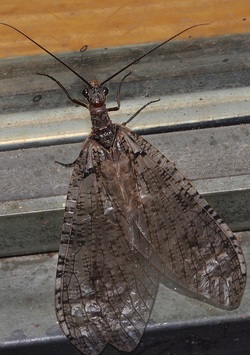 This big (~10 cm) floppy, uncoordinated insect surprised me as it threw itself at the window one night along with the much more coordinated moths! Another joined it and then another came in through another open window...the first time that either of us had seen this creature. Dobsonfly was what popped into my head-at least I got the Order correct (Megalopteran). There are no dobsonflies in BC, but there are three species of the fishfly subfamily, Chauliodinae. This species, Dysmicohermes disjunctus, is found through Vancouver Island, lower mainland and just into the interior. The other two are much rarer.

The adults live up to seven days and only fly at night. Most of a fishfly's life (2-5 years) is as a voracious predatory larvae in freshwater. Apparently they like fast flowing streams, however there are few of those near Leaning Oaks and I am not sure how far the adults will fly. My brief observations would indicate that long distance flight would be a challenge!

Thanks to Dr. Rob Cannings (@DrCannings) for ID help. You rock!