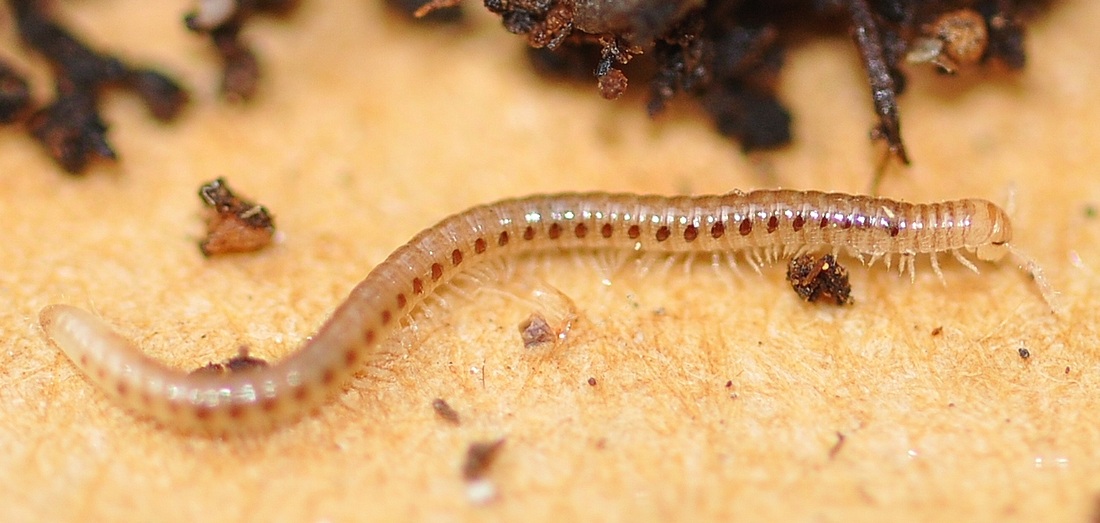 I found dozens of these wee (~8-9 mm) skinny millipedes curled up in the soil where the garlic was about to be planted. They are
Blaniulus guttulatus
, an introduced species from western Europe. They can be a pest if there is already damage from fungus or mechanical damage so that the millipede can get inside the crop. Touch one of the garlic cloves and there will be war!
The red spots are defensive glands that contain palmityl acetate (
Weatherston et. al. 1971
) , which was the first time that an acetate was found as a defense mechanism in a millipede.
B. guttulatus
is prone to desiccation and is more commonly found in heavier soils that stay moist. Which is what we try to do with the garlic. In this photograph you can see some of the typical millipede design; the thoracic segments, of which there are three. The first has no legs ("head" to me), then the 2nd and 3rd have a single pair of legs and then moving on, you get to the abdomen with two pairs of legs. All those legs are useful for pushing the long body through the soil or leaf litter. Away from the garlic.