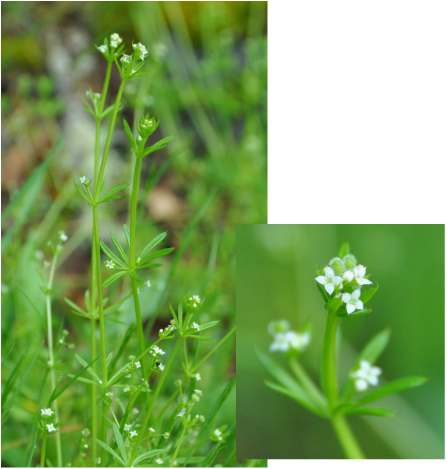 Sticky bedstraw, stickywilly, catchweed, grip grass, stickyweed, clivers, goosegrass or robin-run-the-hedge; it doesn't really matter what you call
Galium aparine,
this sticky, floppy plant can wend its way around other plants, through fences and be a bugger to get rid of. While green, the "stickiness" is caused by small hairs on the leaves that point backwards. Although considered edible (and the dried, ground seed pods apparently make a decent coffee substitute), I can't imaging eating something with those catchy hairs.
I was curious about the origins of "robin-run-the-hedge" and it turns out that it refers to a character from an English tale of the early 15th century, Robin Goodfellow. This magician could change form and was a bit of a scoundrel, showing up everywhere including gardens and maidens beds.
I was totally amazed to find out that this invasive is native! Thanks Marta for help in identifying this plant. There is a non-native species of Galium (
Galium spurium
) that is similar and can be found on southern Vancouver Island. It's flowers are a bit smaller and the flowers are a greenish cream colour.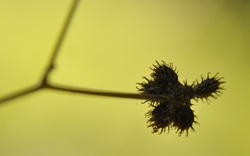 Biomimicry
Here in silhouette are the dried seed pods, ready to snag on to any animal's fur or material and be dispersed! It was from these seeds that Swiss engineer, George De Mestral got the idea for what was to become Velcro. After a walk in the woods in 1948 and picking 100's of these cursed seeds off the dog and his clothing (examples below) he examined them under a microscope to see what was holding them on. The rest is history as they say. It took a lot of work to determine densities of hooks, the necessary rigidity as well as manufacturing methods--but it happened and in 1955 Velcro was patented; the word being a combination of velour and crochet.
** We had it pointed out to us (via @VictoriaNHS) by a biomimicry specialist (David Parr) that it really was burdock that was the original "Velcro" and not these guys! Both are in the literature -but if you do go to the actual Velcro site...it is burdock. And check out David's website; some really cool stuff
http://www.biomimicron.com/
**