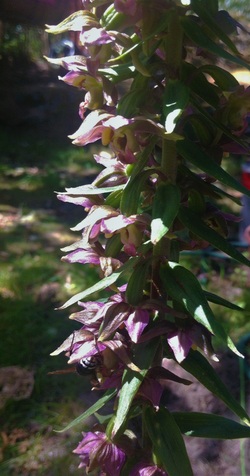 Most people seemed to be surprized that there is such a thing as a "weedy" orchid, but there is.
Epipactis helleborine
is a introduced plant that is most often found in dry, shady areas.
It is often overlooked, and usually not very showy. However, this plant, a seedling that popped up in one of the herb gardens, was recieving additional water from our drip irrigation system - and produced a 0.8 m spike of green and purplish-red flowers. They are insect pollinated plants, most often wasps and bees (you can see the back end of a
Bald-faced Hornet
on the lower right hand side of the flower spike).
This species has an enormous range, it is native from Portugal to China and has been widely introduced elsewhere. Not surprisingly there are a number of subspecies and described forms.
Nectar of this species apparently contains small quantities of Oxycodone and another opiod compound. Like most orchids the seeds are tiny, and it is estimated that a single Helleborine can produce up to a million seeds.